I specialize in an assisted stretching technique called Fascial (fashal) Stretch Therapy, FST. The benefits (see below) gained from FST are, many times, both immediate and long lasting. My stretch and flexibility clients are of all ages (12-85), backgrounds, and needs. They are people who want to feel and perform better, whether it's in the gym, at home, in the garden or as a professional or recreational athlete.
I would love the opportunity to share the amazing benefits of FST with you.
The cost of FST is $140.00 per hour; additional charges may apply for longer distances traveled.
What is Fascial Stretch Therapy?
Fascial Stretch Therapy (FST) is a stretching and flexibility technique developed by Ann and Chris Frederick. They are the founders of the Stretch to Win Institute in Tempe, Arizona.
Fascial Stretch Therapy (FST) is a pain-free, assisted stretching technique that is performed by a Certified Fascial Stretch Therapist with the client on a treatment table. Comfortable straps are used to stabilize the limb or part of the body that is not being worked on, thus facilitating complete relaxation of the person being stretched, allowing for optimal gains in flexibility.
Benefits of Fascial Stretch Therapy:
Release of hormones (endorphins) that act as a natural pain suppressant.
Increased athletic performance and physical fitness.
Improved posture and body awareness.
Promote physical and mental relaxation.
Increase balance and symmetry of the body.
Reduce the risk of injury, especially sprains and strains.
Reduce muscular soreness and tension.
And much, much more!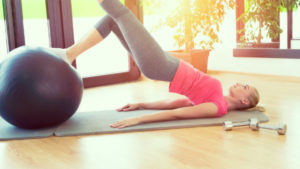 Facts about Flexibility:
We lose 10% of our range of motion for every 10 years we age.
Some factors that affect flexibility: age, dehydration, muscle tension, pain, temperature, body mass, postural misalignments, training, repetitive movements, and more.
Flexibility is specific to a joint and action.
Regular flexibility training will result in gains in range of motion.
Flexibility must be balanced with strength to be fully functional.